Located in Cleveland, Ohio Party411 Events has been coordinating and decorating private, corporate and non-profit events for over 20 years. From theme creation, catering and menu selection to lighting, production, decor, entertainment, specialty gifts, custom invitations, rentals and more, Party411 Events is a full-service design company that fulfills all of your event needs no matter your budget. With an in-house graphics and production department, we are able to create and produce décor items customized for each individual client or business. Our professional network of only the finest vendors allows us to negotiate the best price on your behalf and execute events unparalleled by any other company in the area.
Whether you need a black-tie gala, tailgate party, appreciation event, or a sales conference organized, Party411 Events is the right choice. Allow us to eliminate the stress of event planning with the unmatched creativity, management and overall production our professional staff has to offer.
Sherri Foxman
Sherri Foxman has been on the special event scene for more than 30 years and is known throughout the community for her creativity and originality.  Working initially as a private consultant to non-profit groups creating unique fundraisers and galas, she created Party411 twenty-five years ago to meet the demands of her growing clientele of corporate and private individuals.
Sherri works closely with clients and staff to stage and manage numerous events each year–from parties at Super Bowl and tradeshows for thousands to private events for 25 to 800.
Sherri, a published author/humorist and columnist, is frequently interviewed for local and national publications (Better Homes and Gardens, First for Women, Women's World, Women's Day and others) regarding holidays and other celebrations.
Janet Abbey
Janet began her career in special events in 1995 with the"Save our Browns" campaign as the event and media coordinator. It was the "kick-off" to many exciting opportunities in our wonderful city. She helped plan the Cleveland Bicentennial Celebration, a family–friendly 3-day waterfront festival that was attended by 1.5 million people. Then as the Special Events Site Manager for Cuyahoga County Port Authority, Janet worked with NBA, the 1996 International Olympic Committee, Harvest for Hunger and Cleveland Pride.
After conquering the non-profit arena, Janet provided her event planning expertise to many companies including Merrill Lynch and Smith Barney. Before coming to Party411 Events, Janet was the Director of Special Events for the Club at Hillbrook where she discovered a love of planning weddings. For the last 5 years at Party411 Events, Janet has planned weddings for 800 guests, 50 guests and everything in between.
Janet loves helping others fulfill their wedding dreams and looks forward to bringing her incredible attention to detail to your wedding or special event.
Amy Bilsky
Amy has been with Party411 events since 2001 as a part of the special events team.  Her focus is on private events and she has helped to coordinate over 300 Bar and Bat Mitzvahs.
Amy began working in events while at Brandeis University and has worked in the industry since her graduation. She has over 15 years of professional experience in event planning, working on local and national events for schools, corporations, charities and individuals.
Amy looks forward to working with you to make your mitzvah or special occasion a fun, stress free and memorable experience.
Renee Dolin and Howard Koverman
Howard and Renee are the dynamic duo who head our production team. They are artist extraordinaires, masters of foam core cutting and manipulation, experienced in all things ink and vinyl.
If it needs designed, built, printed, cut, stuck, hung, hauled or hammered, you can count on their many years of experience to make whatever you need for your event look fantastic in even the most challenging spaces.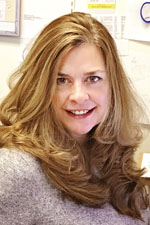 Kim Muzic
Kim is the Senior Relationship Manager at Party411 Events, working to build and maintain strong relationships with vendors and corporate clients. She is passionate about working with people and enthusiastic about creating positive opportunities for vendors and clients.
Her devotion to a high quality experience while finding solutions helps everyone to succeed. Kim is also our lead green screen photographer. Her energetic and warm personality draws guests in to the experience and she loves to capture the fun and memories at many events throughout the year. Kim is also our lead green screen photographer. Her energetic and warm personality draws guests in to the experience and she loves to capture the fun and memories at many events throughout the year.
Aviva Steingroot
Aviva started her career in design for print production which was the perfect stepping stone into her 13+ years as Party411 Events' Senior Graphic Designer. 
Innovative and deadline-driven, Aviva makes everything that Party411 Events does look amazing. Working alongside our events team, she helps clients to develop their vision from initial concept to final, polished design. From invitations, signage, brochures and logo design, to marketing and sales collateral or web-ready digital content, she will pull everything together and make it perfect.
Kathleen Strawder
Kathleen is the Content Manager for Party411 Events and our sister site Party411.com. She manages all of the social media and marketing for the company and for client events when needed.
Always willing to pitch in where needed, she is a problem solver who is excellent with a hot glue gun and gaff tape. She also works on event design including centerpieces and dessert displays.