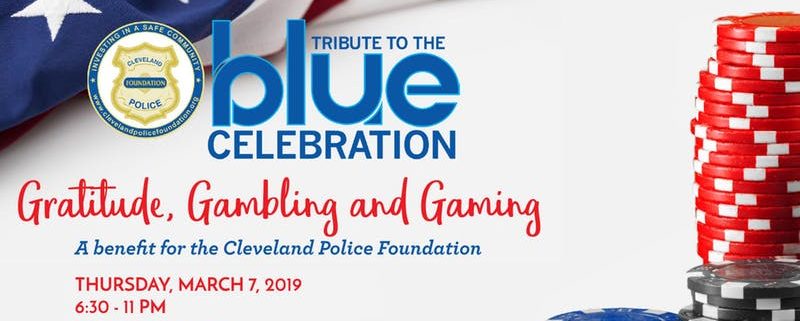 TRIBUTE TO THE BLUE: A TRIBUTE TO THE MEN AND WOMEN IN BLUE
An A-1 Affair with Accolades, Appreciation and Acknowledgement
Join us for a special tribute to our men and women in blue at the House of Blues! Don't miss the ultimate night out – with gambling, gaming, live music, dancing and more at the Tribute to the Blue Celebration. Arrive in style and enjoy live music from the popular BackTraxx Band along with dinner, delicious desserts, and drinks. Then stop by the roulette, blackjack, and poker tables for a chance to win big!
Along with dinner and dancing, this unforgettable evening features:
Gambling and Gaming for Fabulous Prizes: Blackjack, Texas Hold'em, Roulette, "One Armed Bandits" (slots), Keno and more…
Decadent Donuts and Coffee Shots: Donuts, Donut Holes, Cruellers and Long Johns–your choice of baked, fried, filled, frosted, sprinkled, twisted…
Complimentary Beer and Wine
Live music from the BackTraxx Band
Historic Cleveland Police Cruisers, Silent Auction, and 50/50 Raffle

TICKET INFORMATION
VIP Tickets include program recognition, private VIP reception from 5:30-6:30 pm in the Cambridge Room and a silent auction preview
Chief's Tables (8 reserved tickets), $2500 ($2250 tax deductible)
Commander's Unit (4 tickets), $1500 ($1350 tax deductible)
Individual VIP Tickets $125 ($100 tax deductible)
General Admission Tickets $75 each
Police Officer/Law Enforcement $50 each
https://www.eventbrite.com/e/tribute-to-the-blue-celebration-tickets-55282486405
Doors open at 6:30pm for general admission. You do not need to bring a ticket with you. Sign in will be at the door.
For more information or sponsorship opportunities, please contact the Cleveland Police Foundation at (216) 623-3333 or email mjech@clevelandpolicefoundation.org.