A Year in Review for Party411 Events
It has been a great year for Sherri Foxman's Party411 Events! Besides all of the great events we decorate and/or coordinate for our many clients on a weekly basis, several parties stand out.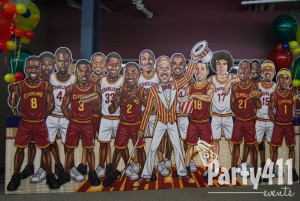 Early in the year we planned the CAVS Suite Holder Carnival that brought families together with CAVS players to play carnival games and gorge on carnival food and high end carnival food (imagine sushi with a clown nose). We converted the entire main floor of Hyland Software into what looked like an outdoor carnival. Great fun for us to create; great fun for all who were there.
February brought us Oscar® Night at Pickwick and Frolic to benefit the Greater Cleveland Film Commission. This was our second year of coordinating this fabulous red carpet event…a Hollywood-inspired gala called Road to the Red Carpet–where 650 guests in black tie and gowns watch the Academy Awards® on the big screen while voting, drinking champagne and posing for photos on the red carpet. We're already planning 2012…so save the date for 2/26/12.
March, of course, brought us the fabulous opportunity to help the Gathering Place with their Crocker Cooks Casino Night event at Urban Active. It was a blast, and once again, we're in the planning stages for this year–same place, same theme, different date–Saturday, March 10. The food is great, the prizes are greater and the cause is the greatest!
June brought us the open house for the Cleveland Browns Stadium. We coordinated a fabulous event for meeting planners across the world (ok, the city) to see the 14 spaces you can utilize to have a party at the stadium. Who knew?? Thanks to Erica Salinas for trusting us to bring it "in"–it was a fun networking event that marketed to the space to over 400 guests.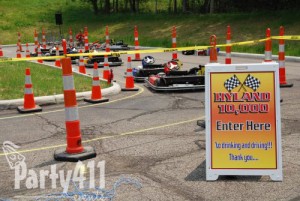 July was hot but fun with a go-karting event for Hyland Software. Most companies would go off-site for a company party such as this but Hyland stayed right there while we coordinated go karting races for their different departments complete with track built on site, announcers, bleachers and concession food. It threatened rain, but unlike most events this past summer, the skies waited to open until after trophies were awarded and race cars put away.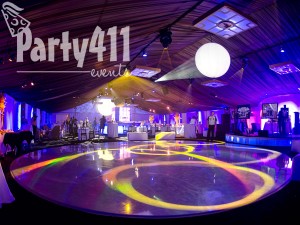 August was our 5th year of coordinating the enshrinement parties for the Pro Football Hall of Fame. And this year, we coordinated for all seven players in the Class of 2011. Deion Sanders and Marshall Faulk had Snoop Dog entertain and allowed us to let our favorite vendors (Pieter Bouterse Studio and Vincent Lighting) convert their tent into a phenomenal party venue. Other parties we coordinated were for Richard Dent (Chicago Bears), Shannon Sharpe (Dever Broncos), Chris Hanberger (Washington Redskins), Steve Sabol Sr. (NFL Films) and Les Richter (Los Angeles Rams).
We were on track in September with a fabulous event for Charter Manufacturing celebrating their 75th year at Weymouth Country Club. Using CHARTER EXPRESS and a train theme to travel through the years, guests actually checked in at a train depot and stepped into a room that was a close replica of Grand Central Station. Souvenir photos were taken on the platform of the Charter Express caboose and there was even a "casino car" for everyone to enjoy. We "conducted" it in a superior manner according to our very happy clients.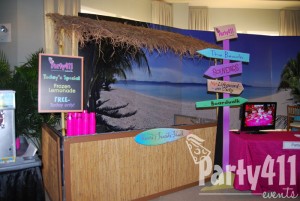 In October, we produced our 5th annual Party Planning Expo, SimchaPalooza (simcha means celebration) to benefit The Greater Cleveland Chapter of Hadassah. The event was at Signature of Solon with more than 1000 party planners attending to visit and talk with 65+ exhibitors. From florists, DJs, caterers, photographers and more to vendors with unusual and original distractions for your party–it was a room filled with very happy party planners from start to finish. Thanks to Mark at Signature, Jim Gernstetter of Lasting Impressions and Jacquie Sopko of Balloon Crew for being so generous. The 6th annual event is already in the works for next October. If you are planning a party, a special event or celebrating a milestone, don't miss it for new ideas and great vendors.
November was particularly heartfelt as we assisted Milestones Autism in raising over $100,000. "Go All In for Milestones Autism" was a fabulous fundraiser at Pickwick and Frolic with casino, comedy and a paddle raise that far exceeded Executive Director Ilana Skoff's desired goal. If you missed it this year, you MUST go next year. Great food, great laughs with a little luck thrown in for good measure.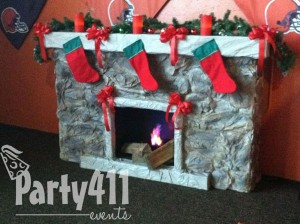 It was a very merry holiday season at Party411 and the Cleveland Browns…we worked with the Browns Backers for their Christmas party–check out this fireplace the Party411 elves made from paper where Santa sat and listened to Browns Backers heirs (a photo was taken to prove it). Not only that, everyone helped themselves to fill a bag at one of our infamous candy buffets (this one in red and green).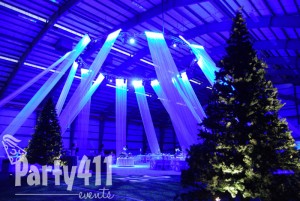 And for the second year in a row, we coordinated the Cleveland Browns Holiday Winter Wonderland with the help of Pieter Bouterse Studios and Vincent Lighting. A special area was set up for the kids (young and old alike if you get what I mean) to decorate cookies and make crafts at a very special workshop.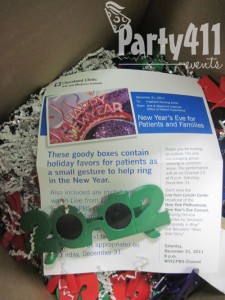 We ended the year, once again, with helping the Cleveland Clinic celebrate New Year's Eve with gift boxes for each of the 10 regional Cleveland Clinic hospitals and the nursing stations at Cleveland Clinic Main so any patients who have to spend New Years in the hospital can celebrate!
Thank you to all of our fabulous clients especially to the non-profits for allowing us to help fundraise for a good cause–the Greater Cleveland Film Commission (Oscar® night, February 26), Gathering Place Crocker Cooks Casino Night (March 10), MHS Opening Doors/Changing Lives (May 11), the PFHOF Class of 2012 (August 3-5), CATS (CATS on Broadway) and others like them. Thanks also to our wonderful vendors and those event planners that use Party411 Events to assist them with decor, signage and anything and everything you can imagine.
Here's to a successful 2012 for all!
Sherri Foxman, Founder, CEO and Ultimate Party Girl
https://www.party411events.com/wp-content/uploads/2018/06/P411-events-logo-nohat.png
0
0
party411events
https://www.party411events.com/wp-content/uploads/2018/06/P411-events-logo-nohat.png
party411events
2012-01-05 07:51:39
2013-03-28 11:24:05
A Year in Review for Party411 Events