"Sea The Cavs" for the Cleveland Cavaliers
Sherri Foxman's Party411 Events was thrilled to produce Sea The Cavs for the Cleveland Cavaliers.  Fans had the opportunity to meet Cleveland Cavaliers players and coaches and spend time with them at various activities.
The first stop was the new Aquarium in Cleveland-as indicated by our entrance sign which read:
Welcome to SEA the CAVS-first SEA the Aquarium..then SEA the CAVS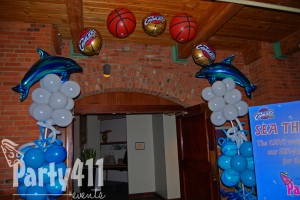 After touring –guests went upstairs and were greeted by a life size cut out of the Cavs mascot Moondog-holding a fishing pole, of course.  Upon entering the party room, guests continued their aquarium experience when they were greeted by a lit 17′ x 40′ "under the sea" backdrop.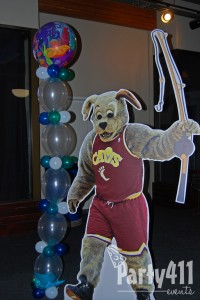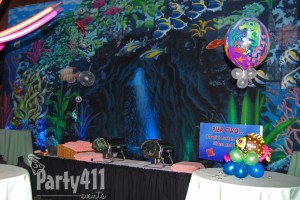 When the players arrived, it was time to play games with the younger fans in attendance.  A game was assigned to two players each and they hosted while kids fished from a FISH BOWL, fished in a magnetic FISH POND, played a little SHELLFISH SHUFFLEBOARD, colored under the sea, and our favorite-decorated SHARK BAIT COOKIES.  There was a treasure chest of prizes at each station  handed out by the Cavalier players to everyone who won (which was everyone actually).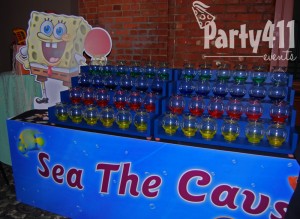 What would a sea-themed event be without a Goldfish Bar???  Our candy/pretzel buffet with fish shapes was decorated with fish netting, sea shells and gold treasure coins.  Guests could fish for their favorite sweet or salty treats and take home a bagfull!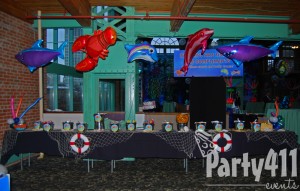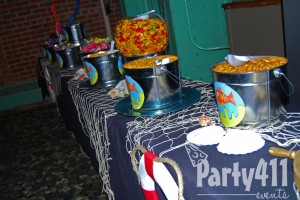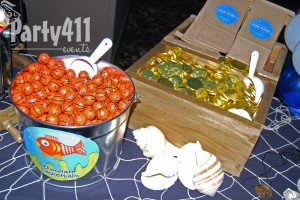 A seaworthy good time was had by all….. and we are thrilled that we did not have to "fish for compliments" as  players, coaches and staff of the Cavaliers and the guests all thanked Party411 Events for producing a whale of a great event.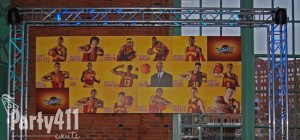 https://www.party411events.com/wp-content/uploads/2018/06/P411-events-logo-nohat.png
0
0
party411events
https://www.party411events.com/wp-content/uploads/2018/06/P411-events-logo-nohat.png
party411events
2012-03-02 08:26:20
2012-03-02 08:26:30
"Sea The Cavs" for the Cleveland Cavaliers