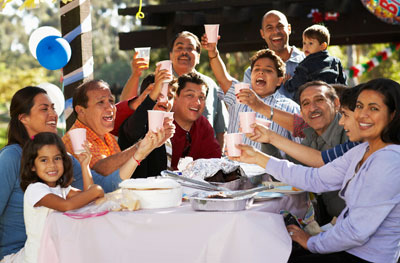 Since Sherri Foxman's Party411 Events can be your one-stop-shop for graduation (invitations, decorations, entertainment and more), we thought we'd give you some ideas on how to pick the perfect place for your graduation party.
#1—How many guests?
Sit down and make your list.   A lot of graduates and their families decide to have an open house at home.  However, if your list is extensive or you're hosting the party with classmates, probably moving to a party room or venue is your best bet.  Before you can choose a place, you must know the number of guests you plan to have.
#2—Do a budget!
What can you spend?  This is the second most important piece of your plan.  Obviously, different venues have different services and different price points.  If money is no object, then go for it (think House of Blues downtown).  If money is an object, make sure you choose a place that offers tables, chairs, linens and has a menu you can afford.
#3—Don't be intense about tents…
I have nothing against tents, but remember a few things when considering doing a tent in your backyard (or anyone's backyard for that matter).
The weather in Cleveland is variable.  I love it here, but you don't know if it will be cold or hot; wet or dry.
When you rent a tent, if you do not have a flat place to install it, you'll end up with problems (like pools of water if it rained the night before).  Tent floors are available, and I highly suggest it, but it is costly.
Remember that when renting a tent, you need to also rent every table, every chair, every linen (unless you are using plastic table covers—which is fine) and possibly a stage for the DJ or band if you are having one.  This adds to your costs.
#4—Ask what they offer for décor and if it is included.
It isn't unusual for people to use school colors for their theme (the one they left or the one they will attend in September if it's a high school graduation); in fact, it's commonplace.  Most venues offer color linens, and you can mix and match.  Table linens one color, napkins the other. Or alternate tables and napkins.
That said, why not personalize the event a bit more?  We've done everything from sports to drama, baseball to Broadway.  The decorations are more fun, and you don't have to go overboard.
#5—Parking
Is it free?  Is there plenty?  Are you competing with other events at the same place?  Ask, don't assume.  You'll be glad you did.
Call us for advice or email the Party Girl…
Happy Graduation!!
https://www.party411events.com/wp-content/uploads/2018/06/P411-events-logo-nohat.png
0
0
party411events
https://www.party411events.com/wp-content/uploads/2018/06/P411-events-logo-nohat.png
party411events
2013-03-12 11:21:49
2013-03-28 11:23:11
Top Five Things You Need To Know About Choosing A Place For Your Graduation Party!